Everybody run, the homecoming queen's got a gun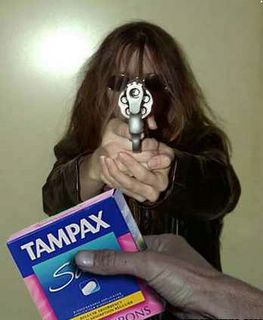 Who else thinks this is me?
Cherie sent this to me today, and even though she sends me old, drunken pictures of me all the time, I just couldn't for the life o' me remember posin' for this one. I don't think I've ever actually held a real gun in my hand, nor have I handled a realistic-looking toy gun.
But, you know, since Cherie did have ample opportunity to photograph me in various states of inebriation, I wrote her back to inquire as to the source of this shot. She replied that she got it off a Yahoo joke list to which she belongs. So technically, that's not me.
The likeness here just blows my mind. Same uncontrollable hair, same pair of shades I had before the current ones, same leather biker jacket, even the hands look like mine.
Frankly, I'm just a little freaked out by this!